A considerable part of this category of surgical operations can be found in the chapters on emergency surgery and neonatology.
In fact, virtually all surgery of the gastrointestinal system is performed as an emergency. Soft tissue surgery embraces operations on the upper respiratory tract (staphylectomy for dorsal displacement of the soft palate, treatment for entrapped epiglottis, laryngoplastic for treatment of laryngeal hemiplegia, catheterisation and drainage of the guttural pouches) and also concerning other problems referred to the head, such as the modified Forsell operation for the prevention of wind-sucking.
Among the other types of soft issue surgery, we should mention those concerning the male and female sexual apparatus: castration, cryptorchidectomy, surgery of the penis due to tumours or paralysis in males; ovaryectomy and vulvular and perineal plastic surgery, and caesarean section in females.
Hernias and ruptures are included in emergency or neonatological surgery. However, we should mention incisional hernias, usually due to the yielding of abdominal sutures after colic operations, and common umbilical hernias in colts.
We have already mentioned orthopaedic emergencies. In this connection, we ought to stress the importance of what is defined as first aid. A horse with a suspected or confirmed fracture, must be immobilised with a plaster cast or with bandages, in order not to aggravate its conditions during transport.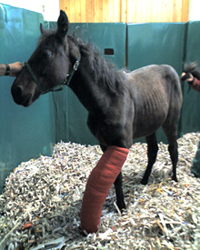 Antibiotics, pain-killers and tranquillisers are often recommended. In many cases, the characteristics of the injury are discussed with the veterinarian before the horse is taken to the clinic, in order to agree on the transport method, and to provide the owner with data on the available options, prognosis and costs. All this work must be done quickly to enable rapid action, and, in this connection, one should remember the importance of IT communications: sending radiograms to the clinic's e-mail address for initial evaluation has become common practice.
As we know, most emergencies regard equine colics. A great deal of progress has been made in Italy compared to about fifteen years ago, especially in assessing the patient on-site and rapid referral. In fact, in very many cases, the referring veterinarian has already carried out a complete examination and is able to provide detailed diagnostic information.When the phone call is made, the owner's opinion is always sought on the possibility of treating the case surgically and cost information is also given (a deposit is always requested in the event of hospitalisation). Information on transport time is also requested in order to better organise reception of the patient, especially at nights.
On arrival, every horse undergoes a full clinical examination: measurements are taken of cardiac and respiratory rates and of bodily temperature, the abdomen is ausculted, the mucous membranes are examined, followed by a rhino-gastric intubation, rectal exploration, blood tests (PCV, TPP, and WBC). Less often, ultrasonography is performed as well as radiography (only in foals) and peritoneal fluid analysis.
If the case is considered non-surgical, conservative therapy (fluids, anti-inflammatory drugs, etc.) is started, and the patient is monitored. Surgical cases are immediately transferred to the emergency surgery department and are operated.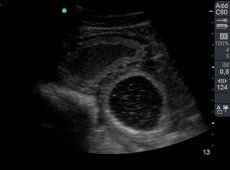 Operated patients are then put on the same routine protocol as those undergoing medical treatment, i.e. round-the-clock monitoring (control examinations, rectal explorations, blood tests, therapies). An operated horse is retained for an averageperiod of 8 to 14 days.
The most common causes of colic requiring surgical treatment are displacements of the large intestine (right- and left-
ward dorsal dislocation), volvulus of the small intestine, hernias of the small intestine (hernia in the epiploic foramen, inguinal hernia), however, the range of situations if fairly broad.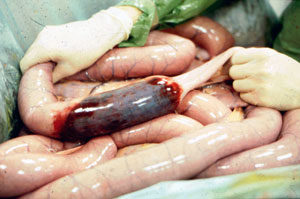 Other aspects of emergency concern special situations. For example, laminitis is a very serious condition which, unfortunately, is often referred quite late. Wounds, especially if they affect tendinous structures or synovial cavities, can have very serious consequences if not treated promptly.
Last but not least dystocias, generally treated by cesarean section.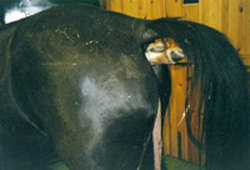 In this condition too, a timely approach increases the chances to get a foal still alive.
Elective surgery and emergency
-- edit:
2019-08-27T07:03:04+00:00